The beverage market is at least $1.5 trillion US according to Statista (2020). Of this, over $900 billion is non-alcoholic drinks, per Report Linker (2020).
People love to drink, and we drink beverages throughout the whole day. The industry valuation mentioned above includes the many types of beverages that many might take for granted. We already hinted at two big ones: alcohol and non-alcoholic. Think about it. The beverage category is made up of, amongst others: bottled water, juices and nectars, carbonated soft drinks, sports drinks (workout, hydration, etc.), tea and coffee, energy drinks, beer, wine, spirits, plant-based beverages, mushroom-based beverages (like kombucha) and the new category of CBD and cannabis drinks.
Amazing! Add dairy style drinks and chocolate to the list. Surely you can think of others too.
People drink alone and socially, mechanically and thoughtfully, and this is where it gets interesting to us. Let's talk about a subcategory commonly called within the industry: functional beverages.
The notion of "functional food" might seem somewhat tautological, or redundant even. We eat to nurture, we eat and drink to enjoy. These are functions strictly speaking. But what marketers and product developers mean when they use this term is that the consumer will buy and drink these beverages expecting a wellness effect. Pretty much like a medicine, sometimes preventive if you will.
The explanation for this has to do with label claims and how organisms like the FDA, FTC and ATF develop rules to protect the best interest of consumers, ideally. A product that does something is offered, then consumers expect that product to do what it says it does. The tricky part is that, while there might be scientific studies that show that certain natural ingredients have certain positive health effects, the person might not be able to sense the actual benefit. Think vitamin C. It is hard for many people to feel if a vitamin C infused beverage is keeping you healthy.
On the other hand you have pretty straight forward functions as is the case of alcohol, cannabis, coffee, tea and energy drinks. Most people will feel the effects of these drinks, and most will consume them because they know what they will get out of them, beyond a pleasant flavor.
Let's think about this through the lens of big data, machine learning and powerful computational systems.
Around these functions, there are a variety of key words and search terms that can be leveraged for business intelligence purposes both in first and second degree.
First degree, you search directly for a functional food or beverage. Second degree, you search for a solution to an ailment, and might be able to find options in the form of food or in the form of a beverage. Here is a representation of the most searched terms around the functions mentioned above.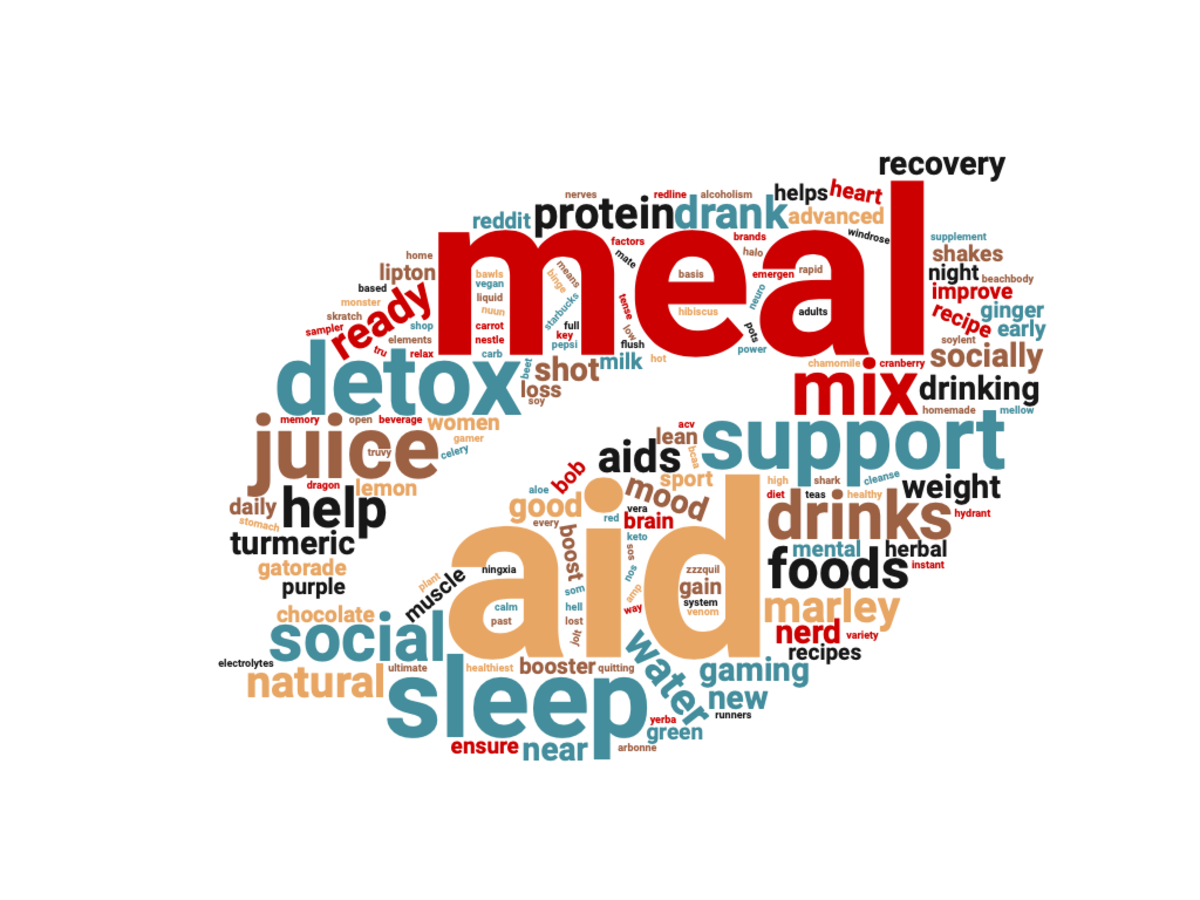 Amongst the most common functional benefits found in the market, from a top level perspective, let's note the following, with some notable examples:
This covers the market side of things. If we focus on the ingredient side of things, it starts getting really interesting. There are a few algorithms out there that look for potential compounds to achieve desired functions. Imagine a library of every known ingredient or molecule. Then imagine a computer that is constantly looking for combinations and coming up with hypothesis about potential benefits. If you want more information about this, please read this article.
We track functions and products on a constant basis. Stay tuned!
=====
Do you have a wellness routine? Tell us about it by joining our wellness panel! It takes 3 minutes, and you will get custom wellness info and deals. Create Wellness Profile.
======
Log in or create your account for our member's area here.
======
Wellness Businesses: interested in artificial intelligence powered leads? Join our platform by answering 3 short questions here.
Are you ready to get started?
=====
Important Resources:
FDA: Structure/Function Claims
Statista: Nonalcoholic market value